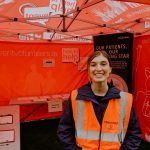 Earlier this year, Skye Corken volunteered with us on some of our major projects. She was an invaluable part of the team while she was here and we already miss her plenty. Here she describes her volunteering experience and what she feels she got from it.
I spent the two and a half months earlier this year volunteering with Volunteer Ireland in their Corporate Programs & Events team. While I was excited to return home to my family in the states, I truly miss the time I spent with my co-workers creating and being a part of meaningful volunteer projects throughout the community.
Being in the Corporate Programs and Events team meant that I had the amazing job of helping with the planning and developing of so many exciting corporate volunteer projects throughout Dublin and beyond. Over ten weeks I met and worked with employees from companies like Indeed, Alexion Pharmaceuticals, Electronic Arts (EA), Pitney Bowes, and Bar of Ireland. Volunteer Ireland also gave me the opportunity to attend wonderful professional development courses in topics such as Successful Delegation in Volunteers, Day-to-Day Volunteer Management, and Volunteer Engagement.
My day-to-day responsibilities included tasks such as responding to and recording corporate inquiries into the Salesforce database, completing department purchase orders, and working on various spread sheets for management. However, most of my time was devoted to specialized projects. These included ordering project supplies and materials, visiting sites prior to events, attending and serving as team lead for corporate team impact days, putting together project packs and volunteer paperwork, and creating contact spread sheets for the National Volunteer Awards ceremony. Of course, this is only a short list of the kinds of things I was able to work on for VI's corporate team.  Through my tasks, I was able to strengthen my skills in communication, corporate engagement, project management, and teamwork.
I also got the chance to tag along with the VI team and attend the National Ploughing Championships in September. This was one of my favorite experiences I've had while living in Ireland and was such a fun event with plenty of food, music, and farm animals to go around. The Ploughing gave me real insight into the proud history behind Ireland's farmers. While there, I was also able to mingle with members of various volunteer organizations throughout the country and learn about how they are engaging volunteers in their own communities.
To say that volunteering with Volunteer Ireland was a wonderful professional experience, just wouldn't be enough. The truth is, working with them was so much more than that. My corporate team took me under their wing and gave me valuable knowledge that I will continue to carry throughout not only my professional career, but in my personal life as well.
Thank you Volunteer Ireland for sharing your wisdom, your community, and your friendships.
Skye x