David McEvoy, Volunteer of the Year 2016, tells us how he began volunteering and what winning a Volunteer Ireland Award means to him.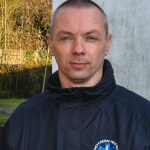 Winning the Volunteer of the Year Award 2016 was an absolute privilege for me. To be nominated in the first place by family, friends, my fellow responders and my community was a real surprise altogether.
In 2009, I was a firefighter in Birr Fire Station. It was here that I discovered an interest in helping people so I took it upon myself to start research on CPR (Cardio Pulmonary Resuscitation). Being friends with some local Paramedics, they helped me find out about courses and information on what to do next. I completed some great, informative courses such as Heartsaver AED, First Aid and also became a Community CFR Instructor. Only 3 weeks after completing my learning, my own Dad, Peter, suffered a cardiac arrest.
Thankfully I knew what to do and immediately started CPR and after a long 42 minutes with the help of the Ambulance Service we restarted his heart. It was an absolute relief to hear him speak again. Unfortunately after 7 weeks, he passed away due to an illness but those 7 weeks were fantastic and gave us a chance to say goodbye.
Birr First Responders
After his passing I realised that Birr town needed a first responder group to help in such situations so for the next 3 years I dedicated my spare time to teaching and preaching about the benefits of AED'S and CPR. Due to an illness, I couldn't continue firefighting but not to let this stop me, I started fundraising and created the Birr First Responders Group.
In March 2012, I launched my group with massive support from my family, friends and our local community. With the help of community businesses and local families we raised a significant amount of money over the next few years and this enabled us to purchase 8 defibrillators along with other lifesaving equipment. At present 5 of these defibrillators are mobile with my responders who are on call to respond to such calls as Cardiac Arrests, Cardiac Chest Pain, Stroke and Choking Incidents. The other 3 defibrillators are currently located at Birr Garda Station, Dooley's Hotel, Birr and St. Brendan's Church, Birr.
To date I have trained roughly around 2350 people in the use of an AED and CPR Skills. These places include local schools, local businesses, An Garda Síochana and also surrounding areas. This keeps me going as it is something I really enjoy and have great interest in doing. It also gives me great satisfaction that people have the interest in what my group and I do for our community.
The Volunteer Ireland Awards Ceremony itself was fantastic. Located at City Hall Dublin, it was unreal – the amount of time and effort put into it was phenomenal. Meeting all of the other volunteers, organisers and staff was brilliant. It was great to meet so many people dedicated to what they do. It was a pleasure to be there and be part of it all – it was an absolutely amazing night for us all.
The Volunteer Ireland Awards
Winning the award for the category Emergency and Ambulance Services that night was unreal but for my name to have been called for the Christine Buckley Volunteer of the Year Award was unbelievable! I did not expect that at all, I remember sitting there and my wife Siobhan literally had to push me off the chair to receive it. It was surreal. Thanks so much to Conor Buckley whom the award was presented to me by.
Since that night I have been like a celebrity in my town, the amount of congrats and well wishes have been mad and I appreciate every last one of them. As every volunteer knows we are not in it for praise or recognition but the fact that we are helping someone out there that needs it is a joy in itself.
Since the event I think everyone has come to realise what it is that a volunteer actually does and it is unbelievable the amount of different stories people have of what they are involved in. You could sit and listen all day to these people – they are all amazing.
I am so chuffed to have these awards in my home. As I said that night these awards are dedicated to my Dad, Peter, who always encouraged me to go ahead and do what I love to do. Thanks so much to Volunteer Ireland. I loved every second of the event, you in yourselves are amazing people in what you do.
If you'd like to nominate a volunteer like David, nominations for this year's awards are open until Friday 13th October. Nominate here.