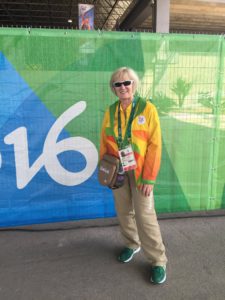 Mary O'Leary was one of a handful of Irish volunteers at last month's Rio Olympics. Having volunteered as a Games Maker at London 2012 she wasn't going to miss the opportunity to have another unique experience. Here, she shares her story with us.
I just want to share some thoughts on my volunteer experience at the Rio Olympics 2016. I made the decision to go to Rio as I had such an amazing experience as a Games Maker in London 2012 and wanted to use my experience to support Rio in making the first Latin American Olympics a success. I volunteer in sports on a regular basis anything from local 5k run to bigger events but there is something special about volunteering in the Olympics. It feels like being in a bubble where positive energy takes over and everyone is looking for a good experience and supporting each other.
The journey to being accepted and offered a role in the Olympics takes time- filling in an application form, taking part in group Skype interview, waiting for acceptance and then confirmation of role takes about 18months but so worth the wait. My role was with the Press Tribune team at the weightlifting event and I loved every minute of it – not something I thought I'd say about weightlifting in the past – but that's the beauty of volunteering for a sport you know nothing about and have no previous interest in. You end up with respect for the sport & the athletes involved. My work involved ensuring the press were sitting in the correct places, had all the resources they required and supporting them to carry out their job. I also facilitated at the press conferences after the events and also helped journalists in the Mixed Zone when they wanted specific interviews with athletes. My team came from all over the world (in total 11 different countries) which was fantastic and I have made some great friends as a result of our time spent together. There is something great about working in a team who come together and share the unique experience of the Olympics. The crowds attending weightlifting are just wonderful all loud, cheering every athlete on and wanting everyone to do well. The screaming and stamping of feet needs to be experienced to believe – it's unforgettable!
I have so many happy memories from seeing Usain Bolt  at the airport, the Gold medallist one night giving me his phone to take his photo, the silver medallist asking to have his photo taken with the volunteers but it's the conversations with people on the journey to and from the events which was the most rewarding. Locals thanking us for coming to support Rio, athletes talking about their experience of the Games to other volunteers and their stories. You meet strangers and say 'hello, where are you from?' and then the conversation flows, it's just brilliant. The sunrise in the morning and sunset going home made the journeys to and from my venue so beautiful.
It took time to settle into the travel arrangements in Rio but easy to understand once the journey had been completed. It was important to be aware of where all the venues were as once you put on the volunteer uniform everyone assumes you know everything about the Olympics so it was important to be prepared for the questions! The days can be long and tiring but the rewards of what you get back and the wonderful feedback make up for this. Rio was also a great holiday destination and we had time to visit the local sites and also attend some of the sporting events.
It is great to volunteer at the Olympics but also important to support grass roots sports and volunteer at our local clubs. This is where all athletes start out and also where the community spirit starts. If you are unsure where to start just ask your local clubs if they need any help. It doesn't matter if you do not know the sport, we all have transferable skills and as long as we have a positive attitude and want to contribute to the success of an event be it local or a global event our help is needed and appreciated.
Another volunteering event has come to an end for me but what wonderful new friends I have made, I helped to support the success of weightlifting at Rio Games and have just wonderful happy memories of another exciting Olympics. The Olympics are a great opportunity to showcase volunteering as well as having a great adventure.
As my team leader said "Mary it was great to have you in the team! Thanks for your effort, support and nice persons make a good team'- this makes it all worthwhile.