'Flying Nun' Named Volunteer of the Year 2017
Sister Patricia Wall Awarded for Her Dedication to the Sleiveardagh Community
Friday, 1st December 2017: Tipperary native Sister Patricia Wall has been named Volunteer of the Year at the Volunteer Ireland Awards for her dedication to the local community of Slieveardagh in Co. Tipperary.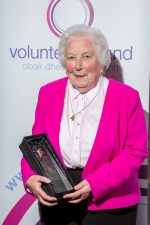 Sister Patricia is known to many as the 'flying nun' for skydiving aged 75 to raise funds for Aware and her local family resource centre. Having battled depression herself while a missionary in New Zealand in the 1960s, she wanted to raise much needed funds and the 'flying nun' was born. While it is her skydive for which she is famous locally, her commitment to the local area of Slieveardagh stretches back to 1996. Since her retirement as a school principal over twenty years ago, she has set up three organisations to support the local community and is still involved in the day to day running of all three. The Millennium Family Resource Centre, Ballingarry Community Development and Slieveardagh Rural Development all came together to nominate Sister Patricia for the impact she has had on the community. Just one of many examples, she was the driving force behind the development of a historical corner in the village of Ballingarry, turning a derelict site into a beautiful tourist attraction and historical monument.
Other winners on the night included Mohammed Rafique, a former Rohingya refugee, who gives his time to the Muslim community and local cricket club in Carlow. Originally from Rohingya, Rafique moved to Carlow in 2009 as part of a UNHCR resettlement programme. He also volunteers as the media coordinator/PRO for the European Rohingya Council who advocate for the human rights of Rohingya people globally.
This was an extra special edition of the Volunteer Ireland Awards as not only was it the tenth anniversary of the awards, they took place in Sligo to mark the end of Sligo's designation as the European Volunteering Capital 2017.
Speaking at the Awards ceremony, Volunteer Ireland CEO Nina Arwitz said "Volunteers are the backbone of communities across Ireland. Sister Patricia exemplifies everything that is wonderful about the spirit of volunteering in Ireland, from her high adrenaline sky diving to her long-term commitment to the local community. And Mohammed Rafique demonstrates the huge contribution and positive impact that new arrivals to Ireland make, something we are proud to highlight. Volunteers are often unseen but the contribution they make to Irish society is immense. These awards give us a chance to say thank you and celebrate the difference volunteers make every day."
Further information: Amy Woods, Volunteer Ireland: 085 717 9261
Notes to Editors:
Photography
Category Winners

Animals & Environment

Suzanne O'Neill – Sean Walsh Memorial Park, Dublin

Arts, Culture & Media

Treasa Martin – Ballymun Local Community, Dublin

Campaigning & Awareness Raising

Mohammed Rafique – Rohingya Council, Carlow

Children & Youth

James Dempsey – Big Picture Youth Cafe, Dublin

Community

Patricia Lynch – Dunshaughlin Local Community, Meath

Health & Disability

Mae Murphy – Drumkill Day Care Centre, Monaghan

Safety and Emergency Services

Michael Cardiff – St. John Ambulance Ballyfermot, Dublin

Social Work and Social Inclusion

George and Mary Sugrue – Chernobyl Children International, Kerry

Sports & Recreation

Benny Grogan – WATCH Cycling Club, Louth

Outstanding Group

Ballyphehane & Togher Community Arts & Crafts Initiative, Cork

Volunteer Manager Special Commendation

Eithne Kiely – Sligo Social Services, Sligo
About the Volunteer Ireland Awards
The Volunteer Ireland Awards are the national campaign to recognise Ireland's volunteers supported by the network of Volunteer Centres and Volunteering Information Services. 30 shortlisted nominees and 3 shortlisted groups and their friends and family attended the gala Volunteer Ireland Awards ceremony on December 1st in the Radisson Hotel, Rosses Point, Co. Sligo. 10 category awardees were announced at the event along with the Volunteer Manager of the Year.
One exceptional volunteer, Sister Patricia Wall, was the recipient of the Christine Buckley Volunteer of the Year Award. The award is named in memory of the late Christine Buckley – campaigner, activist and Co-Founder of The Aislinn Education and Support Centre. Christine was Volunteer of the Year in 2009.