Whilst COVID-19 has been devastating for so many, from our own point of view it has brought both negatives and positives.
The positives are less washing up and more importantly the huge increase in the number of volunteers we now have registered with us, which has gone from 5 to 24 since we registered with the Cork Volunteer Centre, whilst administratively it can be time consuming and cause headaches trying not to omit anyone from the schedule, it is a very nice problem to have, in comparison to begging your wife and two gentlemen of advanced years to keep helping you out week in week out.
With the addition of so many volunteers it has allowed three of our regular drivers to cocoon, which they were loathed to do until they knew that we would be able to continue the service, if our new volunteers prove to be of the same ilk and the signs so far are good we will have no problems running the service for as long as it is required. Interestingly over 80% of our new volunteers are tender in years, which offers great hope that going forward the country and charities in particular, will be in safe hands for many years to come.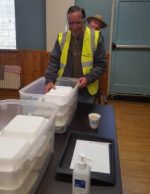 It is to be hoped that most if not all of those who have recently volunteered will stay with us after this crisis ends, obviously only time will tell, but if they follow the lead of two of our volunteers, one who insisted on driving to the City from Bantry recently to fulfil the commitment she had made to us and another who has made his own partition screen for his car so that he could volunteer, I am confident that the future will be bright for us all.