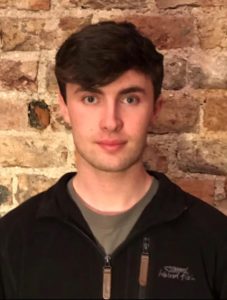 in our first blog of 2021, Mark O'Connor tells us of his unique experience of doing his student placement remotely with Volunteer Ireland.
In this blog I will be writing about my recent internship experience with Volunteer Ireland. As a Social Science student in UCD I was able to take up the opportunity of an internship as part of my third year in the newly developed undergraduate programme. Once I realised there was an opportunity for a role on the Corporate & Events team, I sent in my CV and a cover letter before being called for an interview. I was so very grateful to be given such a valuable opportunity at such an uncertain time for myself both academically and professionally.
My experience in Volunteer Ireland was of course very different to that of any previous intern within the organisation. I was not able to meet with the team in person and due to COVID restrictions I missed out on certain in-person activities and events which would usually happen every year in more normal circumstances. However, while the need to work remotely for the entirety of the volunteer experience was definitely a challenging and unusual aspect of the internship, Volunteer Ireland certainly went above and beyond in order to ensure I was both comfortable and confident in my new role. I was fortunate enough to receive a very thorough and well-planned induction two weeks prior to my official start date with the Corporate & Events team in September. The induction lasted a number of hours and allowed me to chat with the team (Terri, Darren, and Anna) about the organisation and what would lie ahead for me in the coming months.
While remote volunteering has certainly posed some challenges, I also believe it provides potential volunteers with some great opportunities. Taking up a virtual volunteer role during a time like this can really help to boost your sense of belonging in a community and increase your confidence and communication skills. It can also be a more flexible option for people that would not usually be able to find the time to volunteer in person due to work schedules or transport issues. I was surprised by how much can be achieved through online collaboration and I really enjoyed helping to plan and execute a number of virtual volunteering sessions as well a letter writing initiative that would see care-home residents receive a positive message during a difficult time.
I am very grateful to Volunteer Ireland for being so welcoming from the very beginning and for giving me the opportunity to add such a valuable experience to my undergraduate degree. I managed to gain a range of interpersonal skills which will benefit me both academically and professionally going forward. Most importantly, I had a really enjoyable and rewarding time with Volunteer Ireland!