Emma Barnes is the Training and Recruitment Manager with Aware, a national charity that provides support and education for those experiencing low mood, anxiety, depression or bipolar disorder. Here she tells us about managing a team of volunteers across four services and how they have adapted to COVID-19.
Tell us a little bit about Aware and how you engage volunteers generally.
Aware is a national charity that supports people experiencing low mood, anxiety, depression or bipolar disorder. We have four services supported by volunteers; a support line, local support groups, a support email, and the Life Skills Online programme. The latter two services are delivered virtually by volunteers although in person training still takes place before volunteers take up their role. The support helpline is delivered from our offices in Dublin 4 while local support groups take place around the country.
How have you adapted your volunteer programme since the onset of COVID-19?
We were actually in the middle of training a new intake of volunteers for our Life Skills Online programme and our support helpline when the restrictions began. We had to adapt very quickly and within days we had moved the training online. As we had a big group of volunteers, we split them into smaller groups of 10/15 volunteers and completed the training through Zoom. We are lucky that given the nature of our roles, our volunteers are quite tech savvy so most of them adapted quite quickly.
We have changed the helpline to work through an app on volunteers' mobile phones – all secure and encrypted – so they can take calls during their shift while at home. We have made the importance of shifts very clear – if a volunteer is on for a three hour shift then they finish when the three hours is up. When you're fulfilling your role at home, the lines between 'on' and 'off' can become blurred so we have been very clear about maintaing boundaries.
Have you faced any challenges adapting your volunteer programme?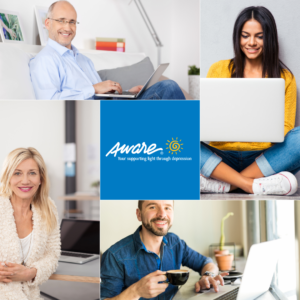 For some volunteers, particularly those who don't typically deliver our online services, technology has been a challenge. In these cases, we offered extra support to help the transition but in some cases the volunteers felt it was best to wait until things are back to normal to continue their role. This is completely fine and we have engaged these volunteers in other ways by asking them to spread the word about our services online and by word of mouth.
Another challenge has been to ensure we are looking after our volunteers' mental health. As a society, we are all going through something quite difficult and unprecedented so it's critical we are minding the mental health of our volunteers as well as our service users.
We have created a 'buddy system' whereby a more experienced volunteer will check in with a volunteer at the end of their shift to see how they are, how they got on and if there were any challenges. This is really important as one of the most enjoyable aspects of volunteering for many is the social side where they make connections with other people – this doesn't replace that but ensures the volunteer feels supported and connected.
Do you have any advice for anyone trying to manage their volunteer programme remotely?
Communication is key. There are lots of different ways to engage volunteers remotely but it's vital to be clear about what you're asking them to do and how they'll be supported throughout the process. Ensure they're comfortable with change but if they're not, make sure they know it's ok to opt out. And that they there is a place for them when everything returns to normal.
Be clear about expectations and boundaries. Make sure volunteers don't take on too much and encourage them to practice self care. This is a trying time for everyone and people are so willing to help in any way they can. As volunteer managers we have a really unique job in harnessing that spirit, engaging volunteers effectively and making sure they are supported.
If you'd like to volunteer with Aware, you can learn more here. If you're looking for support from Aware, you can learn more here.