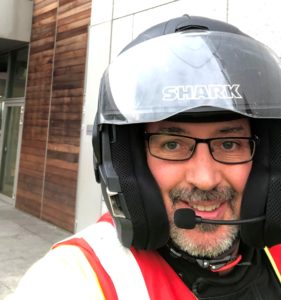 Aidan Collins, Communications Officer with Blood Bikes East tells us about the impact COVID-19 has had on their organisation. Established in 2012 Blood Bikes East is an Emergency Medical Transport Service. Staffed entirely by volunteers, they offer a free out of hours delivery service under SLA for 22 hospitals in the Greater Dublin area.
How has the COVID-19 emergency impacted Blood Bikes?
We have seen a big increase in demand for our services. Since the beginning of the year our cars have done over 35,000 miles – most of that in March. We have recently added an extra overnight shift to cope with the volumes of samples coming from the regional hospitals to the National Virus Lab in Dublin via linkups with the other Blood Bike groups.
We primarily run an out of hours service because all of our volunteers have day jobs but we have now added day shifts during this period providing support to Beaumont Hospital and St. Michael's in Dun Laoghaire. We have also added an extra shift for a scheduled weekly collection – which often takes place in the middle of the night. Thankfully we have a wonderful group of trained volunteers and we have had no problems filling shifts!
Has COVID-19 impacted the organisation in any other way?
Our fundraising traditionally takes place through on street collections or bag packing in the supermarkets – two close contact activities that are off the table for the moment. We have moved our fundraising online by adding a button to our website and Facebook page. Our volunteers are also doing a great job raising money through their own social channels.
We are very lucky in Blood Bikes East to have the support of some great sponsors. Annesley Williams have given us a free 4×4 every year for the last 5 years while AXA Insurance covers the cost of insurance for our bikes. Maxol have recently come on board to cover the cost of petrol – our second highest overhead – for the duration of the emergency. Our other overheads continue to increase as the vehicles need an increased level of maintenance and parts due to the increased mileage so a regular income is more important than ever.
Have you needed to recruit more volunteers?
We have had over 90 requests from people looking to volunteer with us over the last few weeks which is great. Given we provide such in depth training for new volunteers, it hasn't been possible to bring many new people on during this process. We've been lucky that we've had a few Garda bikers and motorbike instructors apply and have been able to take them on given they have advanced rider training already. We have invited anyone else who wants to volunteer to start their prep work for the advanced rider course which can take a lot of time so is perfect for this period. We're sure a lot of our volunteers could use a break once this is over and we're looking forward to welcoming new volunteers then.
And finally, as a busy volunteer with a family and full time job, how do you manage it all?!
I'm not going to lie – it has been fairly manic. Luckily my day job is a global role so I'm used to video conferencing and working odd hours so I've been able to share my expertise with the committee. I'm also lucky that we have such a great group of committed volunteers so I have been able to concentrate on communications and administration over the last few weeks and haven't needed to take on a biking shift. Volunteering with Blood Bikes East, especially at a time like this, allows you to see the very best in people which has been such a positive during such a crazy time!