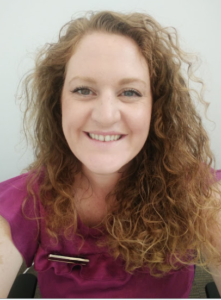 Barbara Kilbride, Coordinator of Volunteer Services at St Francis Hospice, tells us about a day in her life.
On my drive or walk to work (depending what Hospice I'm in) I mentally go through my diary for the day ahead, what meetings I'll be having and some items that need to be actioned.  However, every day can be very different as a volunteer coordinator, you never know what will land on your desk, who will pop up to the office, a conversation you may have and also in between all that, some multi-tasking!    A few years ago Volunteer Ireland ran a campaign about explaining volunteer management – "one job, many hats", and that exactly sums up my job!
Daily my role includes chatting to the volunteers to see how they are getting on, and thanking them for all their help. Liaising with department managers, holding initial interviews, team meetings and reviews of volunteer requirements.  Training is an important aspect of our volunteer programme and it is very important to us that volunteers feel supported in their volunteer roles. As you can imagine with over 300 volunteers, this takes some coordination.   Also there is the exciting fun element, like organising Long Service Awards, Christmas parties, volunteering study days and running around with chocolates on special days like International volunteer day!
The most important factor I feel as a volunteer coordinator is to have time, time to give to the volunteers, time to listen, support, engage and for them to know that we are grateful to them for all they do.  There is always time and our doors in St Francis Volunteer department are always open.
To me, I feel privilege & honoured to work for St Francis Hospice and also more privileged to coordinate such a wonderful group of volunteers.  They give so much to St Francis Hospice and I get so much positivity from them daily.
In St Francis Hospice we have over 300 wonderful volunteers who work across 45 volunteer roles.  They are an integral part of St Francis Hospice and honestly we couldn't do the work we do without them.   Every volunteer role enhances the quality care we give to our patients.
If you are interested in the volunteer programme in St Francis Hospice please contact us on (01) 832 7535 or email [email protected]