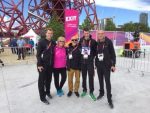 We all know that volunteers support sporting events across the world – at both a grassroots level and at major sporting events – the World Para Athletics Championships are no exception. Mary O'Leary, who you may remember from our Rio Olympics blog last year, was Team Attaché for Team Ireland. She reflects on her experience.
"Well another great volunteering & sporting event has come to an end. It's amazing how time goes so fast but during the course of the World Para Athletics there were so many happy memories and experiences to cherish.  Getting selected to be a 'Runner' at the Championships was a real honour but then to be offered the role of Team Attaché for Team Ireland – well, just made my heart full of pride.  The atmosphere is unbelievable from the spectators, fellow volunteers, athletes and support staff – it all creates such a positive vibe that it was impossible not to feel happy to be a part of such an event. And when the school children arrive excited and asking for high-fives – their enthusiasm and spirit for the occasion and willingness to cheer every athlete in the stadium was just wonderful and very contagious.
I enjoyed all aspects of my role and loved supporting my team at all their events.  I was lucky to experience Team Ireland winning 7 medals and that meant 7 medal ceremonies. Being with the team and making sure the athletes' families were allowed close access to the stage was part of my role at ceremonies. Singing the Irish National Anthem wasn't compulsory, but I was not going to miss the opportunity, so the fact I got to do it four times, and also to wear my Irish flag earrings – was simply amazing. I even got the chance to wear my shamrock earrings on other days. The entire experience was just wonderful and my face must have shown just how much as I overheard someone saying how much 'Mary loves a ceremony!
The entire experience has given me so many lovely memories but handing the Irish flag to Jason Smyth and Michael McKillop after they won their gold medals, and then being able to watch them on their lap of honour and being interviewed still holding their flags, was just fabulous. Michael surprised me in the Heroes Village by thanking me for all the support I had given him and the team. What a great team and I feel so proud to have played a small part in the success of the World Para Athletics 2017."